FAQ: Apple Mail and Email Tracking
(Updated January 2022)
What's happening with the Apple Mail App and Email Tracking?
Apple made waves back in June 2021 when they announced Mail Privacy Protection (MPP) feature for the Apple Mail app on iOS 15, iPadOS 15, and macOS Monterey devices. This new feature launched as a software update on September 20th, 2021.
What is Mail Privacy Protection (MPP)?
Mail Privacy Protection stops email senders (like us) from using invisible tracking pixels to collect information about the user. This new feature helps users prevent email senders (again, they are talking about us here) from knowing when they open an email. It also masks their IP address so it can't be linked to other online activities or used to determine their location.
Ok, so, what does that mean?
It means that *if* a user turns on this feature, we can no longer accurately show an "open" from someone who is using the Apple Mail App to view emails.
Does the user have to turn this on for it to work? Are they forced to use it?
Yes, they have to opt-in, and they are not forced to turn it on. However, here is what they see when they update their device and open the Apple Mail app for the first time.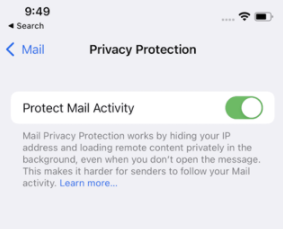 Is this affecting ANYONE who has an iPhone and checks email on it?
No, this only affects Apple users who use the native Apple Mail App on the iPhone, iPad, or other Apple devices, and they have opted-in as shown above. As of right now, if they have an iPhone but use another third-party email app (gmail, outlook, yahoo, etc) then this does not apply. But things are changing fast, so we'll see.
Is this only affecting the emails we send?
No, this affects ALL emails that are sent to the user. Every. Single. One. Whether it is our own newsletter, or a partner email blast, if the user decides to turn this feature on it is turned on for every email they receive, regardless of who the email came from.
Does this affect the email our advertisers send themselves?
Yes, as we know our advertisers send emails through their own email platforms and this will affect them the same way.
Do we have any data that shows how this is affecting our metrics?
Yes, we're working internally and with our email partner as well as our industry peer groups to get a better understanding of our "new normal". Our early analysis has shown that open rates have increased on average by about four percentage points since Apple's MPP has been active. We're continually monitoring email performance and will provide updates to our partners.
Are all our email opens going to plummet and what about clicks?
Early indications are showing that email opens have "increased" from "Apple Devices." But, according to Apple, this is what is expected to happen, and it is by design. The Mail Privacy Protection feature "fakes" the open. Thus, why we are seeing increases in opens. As for clicks, we can still track a user who "clicks" on a URL and report Click Through Rate metrics.
For more information, please contact your account representative.